Education Management
---
Complete School Management solution with help of Odoo community Apps.

Students and Faculties
An orderly composition leads to efficient tracking and better productivity. Educational ERP is a robust and comprehensive user-friendly ERP solution specially crafted for school administration.
One can easily manage the details like student admission, enrollment details, faculty records, class management, and subject management.
Educational ERP manages and maintains a robust database storing all pertinent and real-time information upon the students and faculties within the school.
It acts as a single gateway to administer all the school-related activities. Experience the smartest school management with Educational ERP.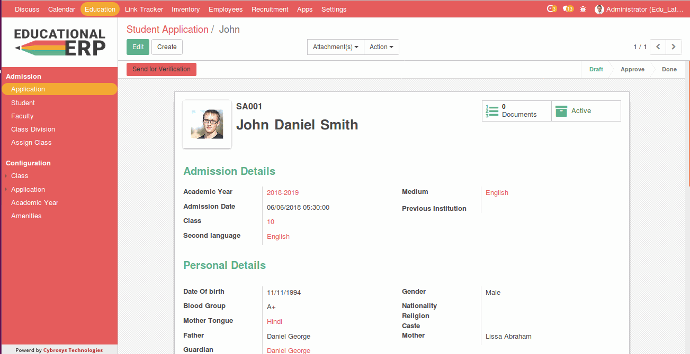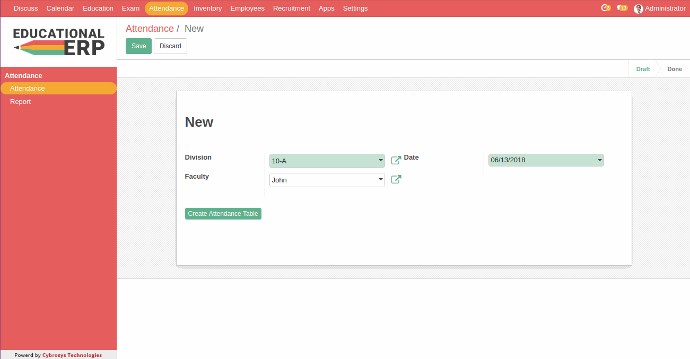 Attendance
A day in school starts with the teacher calling for taking the attendance.
Attendance tracking allows schools and educational institutions to make better administrative and financial decisions.
Especially, attendance tracking management allows the schools to keep abreast of their student interest.
With Education Attendance ERP, one can efficiently manage the student attendance and detailed analysis report.
The user-friendly interface allows easy management of attendance with minimal human interference.
Exam
The examination is very pivotal in schools. It acts as a gateway to understanding the potentialities of a student. School exam management software eases the task of examination processes in schools.
Education exam administers and verifies the following operations like scheduling the exam as per the class and division, results in publishing and record management.
It takes care of configuring a number of classes, subjects, language and types of examinations. With Education Exam ERP, one can minimize the human intervention and errors in the exam management.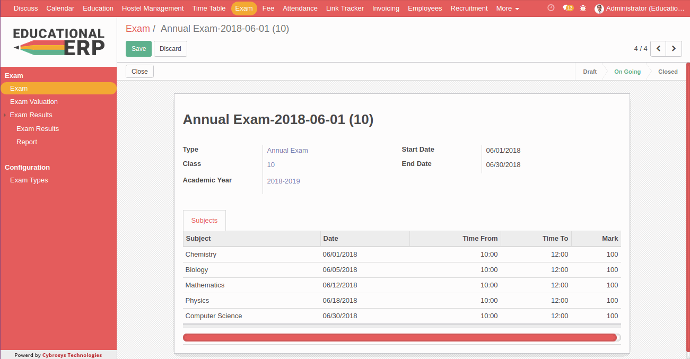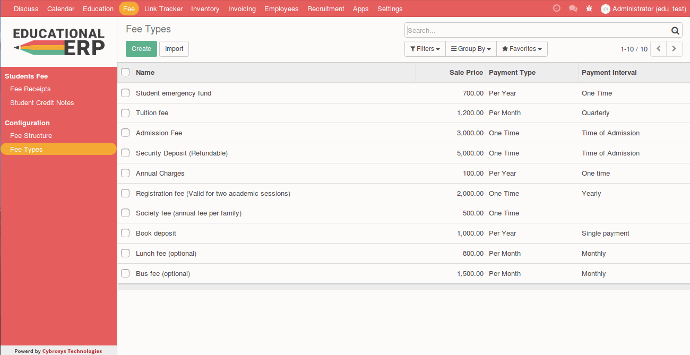 Fees
Education fee provides a comprehensive student fee management solution to automate, streamline and transform fee processing in educational institutions.
With an educational fee management system, one can effectively communicate to students on fee particulars like the fee structure and category.
The dashboard gives an overall glimpse of the internal transactions within the educational institute. It customizes the revenue collection and makes fee plans.
Hostel
It offers a comprehensive ERP managing full-fledged accommodation system. to efficiently manage the entire residential facility in the school.
It reduces the staff & paper works via automating every detail in real-time. The ERP also keeps the updated records of students, their lodging, etc.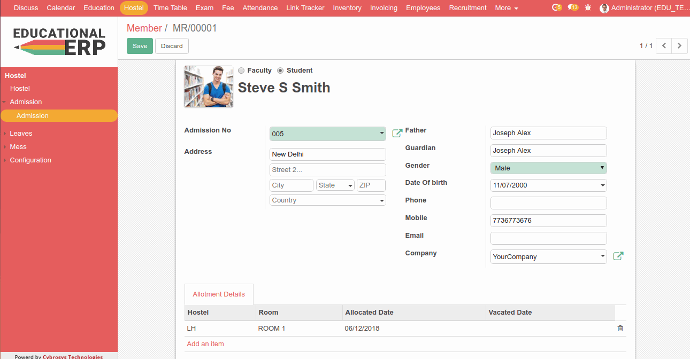 Time-Table
The timetable management module enables you to efficiently manage the academic year via streamlining the timetable keeping a focus on all subjects and their management.
The timetable management module helps in aligning the proper schedule and thereby allows faculties as per their availability. It delivers high flexibility in restructuring the periods in accordance with the need.
One can easily sort the timetable according to the classes, their division or with respect to the faculties. The time management module acts as a robust platform to forecast and thereby plan accordingly the efficient utilization of school time resulting in greater performance and productivity.

Educational Attendance Management
---
Educational Examination Management
---
Educational Fee Management
---
Educational Hostel Management
---
Educational Timetable Management
---
For Odoo ERP education management system consultation or demo.