Enterprise Resource Planning is a system of integrated data and processes of an organization that helps it manage the business more efficiently. It integrates almost all of the aspects of business operations in a single database and user interface. It is slowly becoming an essential part of an organization. An organization can focus on the more important activities when ERP handles the routine work. Odoo is one of the fastest-growing open source ERP software models. It provides numerous business applications to be handled by a single platform. It saves time and energy which can be delegated to other activities. Let's look at some of the benefits of the Odoo platform to better understand why an organization must have it.
Comprehensive: Odoo covers a wide range of business needs like Warehouse Management, Project Management, CRM, Financial Management, Sales, and Human Resource Management. It integrates almost every aspect of a business which improves the overall efficiency.

User Interface: It provides a user-friendly UI that can be used by any organization, be it small or large. The learning curve is very small in the usage of this software. People can get used to it in little to no time.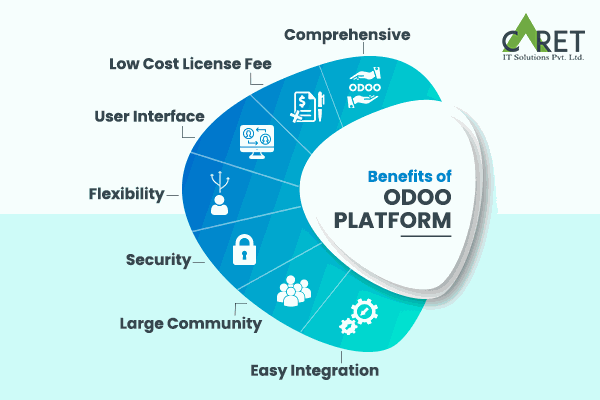 Flexibility: It offers many different modules but one can opt to use a basic module in the beginning and then can add specific modules as per the need of the organization. This feature is a blessing for developing business.

Easy Integration: With comparison to its competitors, Odoo is known to have an easy configuration process. It is easy to integrate with other existing ERPs.


Low-cost license fees: Odoo offers a basic ERP with low-cost license fees. This is a huge advantage because developing ERP costs a lot. Users can maximize the budget on the customization of the platform as per the requirement when they don't have to pay for a license.

Security: Odoo is known to be secure by design. Being an open-source platform, Odoo is always under scrutiny by users. It constantly improves the bugs reported by users.


Large community: Odoo is the most used platform in the world. It is used by 20,00,000 users worldwide ranging from companies with only 1 user to companies with more than 3,00,000 users.
A business needs some sort of autonomy over trivial matters. It needs to concentrate more on the things that facilitate the overall growth of the organization.

By using Odoo ERP, it can achieve that. It can also decrease human intervention to some degree which in turn decreases human errors. An organization must understand its scale and its needs. It then can have a customized ERP from Odoo and can step towards productivity and efficiency. To learn more about Odoo ERP implementation for your organization, kindly read our blog or