The world is changing at a fast pace with technological advancement in recent years. To fit or even survive into this new world, an organization must strive on adapting to the newer ways to operate. Digital transformation is the need of the hour to keep up with the ever-changing marketplace. Odoo ERP is one of the fastest-growing software models for the integration of data and processes within an organization. It is a step towards the digitalization of an organization. The implementation of digital processes is not limited to large corporations only. Small and midsized companies are also investing heavily in this endeavor. Therefore, businesses are getting more efficient ERPs to have better productivity in their move towards digital transformation. Odoo fits the bill perfectly in giving the best solution in this quest.
Let's have a look at some features of Odoo ERP which are helpful in the process of digitization of an organization:
Cloud-based ERP: It is an important feature in digital transformation as everything is backed up in cloud storage. It helps access the data from anywhere and anytime. It works as an extension of the current ERP system so it gives an accelerated speed towards digitization.

Competitive edge: With digital transformation at the horizon, many new opportunities have arisen. Everyone is integrating different features in one place and thus improving functionality. It gives an organization a competitive edge if it understands the importance of digitization and develops customized solutions early on.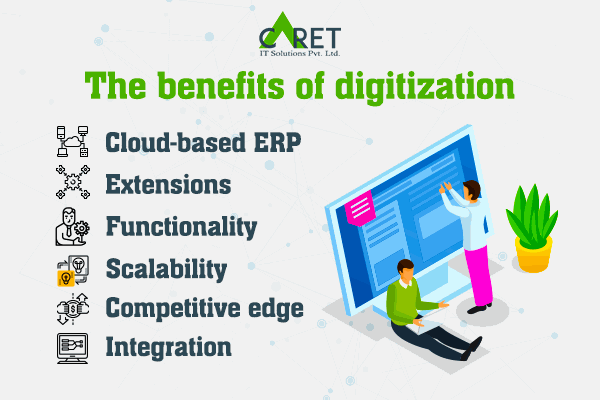 Integration: It can increase the overall productivity as everything is available in one platform. ERP can perform multiple tasks at the same time and with the same efficiency. Businesses should realize the potential of this feature because it can manage the work very efficiently and reduce the man-hours drastically.

Extensions: Complex tasks can be done smoothly via ERP because of the relevant extensions. An organization can choose from the wide variety of extensions and use them as they are required. Appropriate extensions can help obtain desired results. If an organization wants to diversify the business in the future, these extensions can make the ERP equipped to perform such tasks with ease.

Functionality: It is a comprehensive ERP which consists of accounting, customer relationship management, inventory management, e-commerce, warehouse management, billing, financial management, project management, and many more. So it is literally a one-stop solution for every need of an organization.

Scalability: Odoo ERP is scalable. It handles various tasks related to the organization and it doesn't take the size of the organization into consideration. The organization can be small or midsize. It performs the tasks efficiently nevertheless. It can also be upgraded anytime so a business can have a competitive edge. It is more cost-effective to upgrade the existing ERP than getting a new one.
Digitalization is the future. An organization needs to buckle up and work towards it and not against it. Odoo ERP is one of the prominent solutions to increase productivity and efficiency. The platform can effectively help transform an organization completely when it comes to digitalization. It is a platform with sturdy features and it can prepare an organization for the future challenges by ensuring proper utilization of the available resources. Connect with CARET IT, a top Odoo partner, for Odoo ERP services and transform your organization digitally.