A website is the face of an organization. It should reflect what the organization is, what it sells, and its principles. A website also varies based on the purpose. A purpose can be different than what the organization offers in terms of products. Some companies want to sell directly from the website. Some want to attract potential customers. And some might just want entertainment. No matter which category, an organization must invest in a good website builder. Odoo website builder offers a seamless process of website building with customizable features. It works efficiently for different industries and different purposes.
Following are the benefits of Odoo website builder: 
Designer Templates: Odoo provides a huge number of readymade templates for designing the website. This reduces the efforts as one doesn't spend any time in creating and developing new themes, pages or building blocks. The theme for the whole website can be changed in one click.

Edit anything Inline: Odoo has a unique feature of editing inline which is effortlessly user-friendly. It makes website creation very easy. One can just click anywhere to change the context.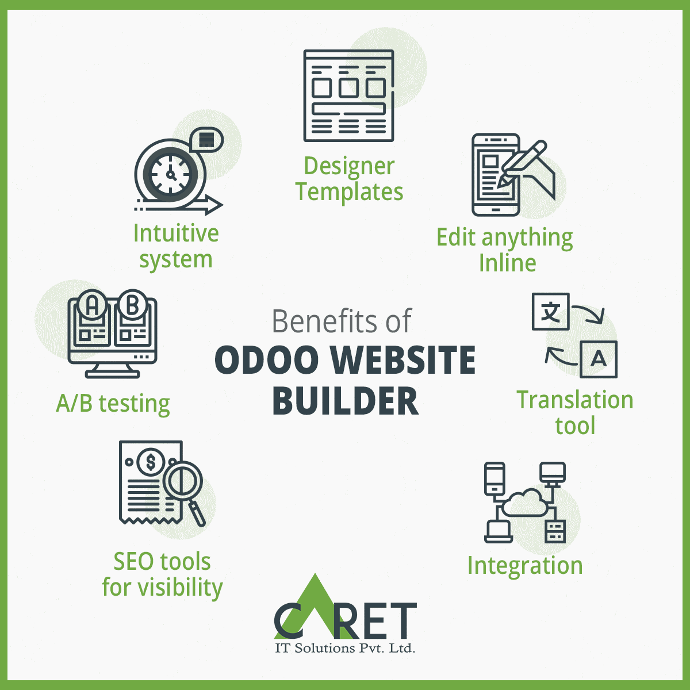 Intuitive system: One of the most prominent features of the Odoo website builder is that it can be built without any formal training. It is very simple and user-friendly. It allows users to drag and drop items on the website. It is fully customizable. Everything can be done on the front end and there is no need to deal with the back end.

SEO tools for visibility: To make the website stand out, it has to have tools to optimize it. Odoo has a sturdy SEO suite which helps the website rank better and gets organic traffic thanks to keywords suggestions and meta tags. It also allows users to keep tabs on the performance of the website.

A/B testing: It helps run A/B testing on different elements of the website like words or headline color. It divides the audience into two. 50% of visitors go to the original version (A) and the other 50% go to the test version (B). Then, by comparison, one can analyze the results directly on Google Analytics.

Translation tool: Odoo Website Builder helps translate the website into multiple languages effortlessly. It can translate and update any part of the website and make the version live in a matter of hours. It gets the user's standard translations with Gengo integration.


Integration: It has the provision to share website pages across various social media networks to reach potential users. It has Live chats embedded right within the builder which provides the visitors with relevant information via a popup chat window. Other integrated features include sales, HR, CRM, blogs, and newsletters.
Website building is a task that should be easy and less time-consuming. An organization shouldn't be burdened with website builders having a high learning curve. It needs to operate this task efficiently without any hurdles. Odoo provides a user-friendly website builder with numerous useful features.
An organization can create a customized website as per their requirement and start getting the desired traffic in a very short time. Odoo Website builder helps make a website that suits the brand and company guidelines.To learn more about Odoo Website builder for your organization, kindly read our blog or