The online market is growing like nothing before. And with that growth comes different software solutions for an organization. It is no longer the case of one size fits all. Now is the time to try different things and choose on the basis of the experience one has with them. There are numerous such solutions available in the market right now. The problem is which one to choose. It is not cost-effective or productive to jump from one software to another in search of the perfect solution.
So let us help you with that. In the open-source world, Odoo started an ERP to make itself known. It was once called an alternative to SAP but it has since transformed itself into an all-inclusive solution for businesses. It has seen steady growth in the years since its inception and the reason behind it is its reliable and sturdy features. Let us explain why it is time to switch to Odoo ERP for the betterment of an organization.
Here are the reasons why a business should move to Odoo ERP
Features make the difference: Odoo ERP consists of more than a number of modules. This is a huge range of modules that can increase an organization's productivity. Every module is designed in such a way that it does specific tasks with ease.
The modules are efficient and error-free. This is precisely one of the reasons why Odoo ERP is better than all the solutions available in the market. A careful assessment of the requirement gives a proper configuration which helps get the organization ahead.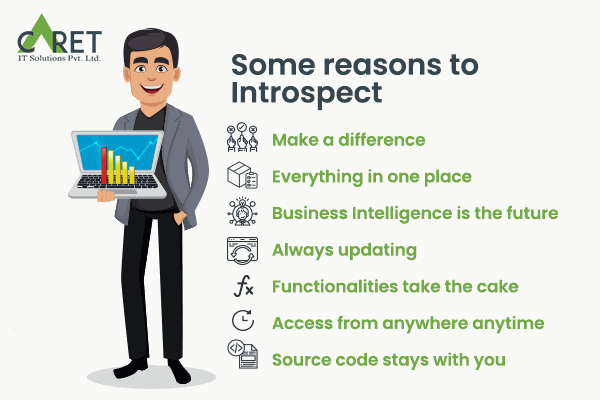 Everything in one place: Imagine a finance department using specific software for their data and a marketing department using another. It puts an unnecessary load on the system when everyone is using different kinds of software. It is not only inefficient but it is very heavy on the system. And on top of that, all this disorganized utilization of the system often leads to problems. When an organization opts for Odoo ERP, it has all the information accessible from a centralized unit and every department can use it as per their need.
Business Intelligence is the future: Odoo ERP has different modules related to sales, purchases, marketing, etc. Users can access this data and generate reports pertaining to any module or statistics. This will, in turn, help an organization make better decisions. This is called Business Intelligence. Odoo offers real-time data analytics which can be used to help an organization grow. It does this with the help of a built-in feature of data analysis. Odoo ERP effortlessly integrates all the systems and delivers precise information regarding operations.
Always updating: Odoo is a platform that has dedicated software developers. They keep the platform up to date with the current technological advancement. It is important to keep up with the rest of the world. These updates help an organization to perform at an optimum level as they keep adapting to the latest developments.
Functionalities take the cake: The good thing about the Odoo platform is that it can manage multiple aspects of an organization like accounting, sales, warehouse management, CRM, HR, etc with ease. A new version now allows users to see and respond to messages as they do on social media websites. People can make groups and communicate with the team in real-time.

Access from anywhere anytime: Odoo has a cloud-based ERP. Because of this feature, all the data is available 24/7 and it can be accessed from every location. For example, the sales personnel can access the data from the field or the training center, or their own home. It can be accessed on holidays or while commuting. It makes their work ten times easier. It eliminates the need to be physically present in the office to manage the work. It can be accessed from any browser. It can be accessed from a laptop or a mobile phone. Such an approach always carries a huge cost. But with Odoo, users don't need any special equipment. It can be done within a small budget.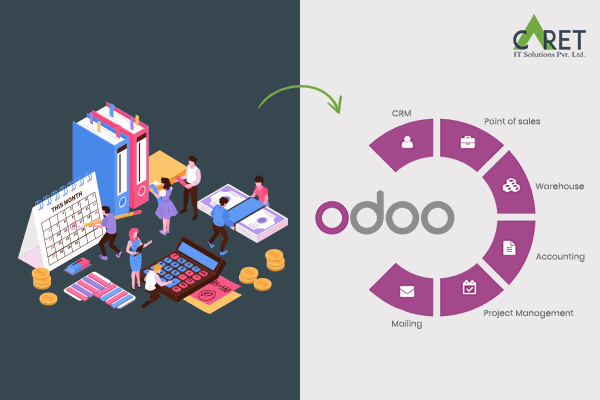 Source code stays with you:  A big problem with other solutions is that if the vendor decides to stop their support, it is like an organization is dead in the water. But with Odoo, an organization can keep the source code. So even if a vendor pulls back on the deal, an organization can easily find a new vendor and continue enjoying the services of Odoo. When the source code lies with the organization, a team of good developers can get the desired results.

Odoo can prove to be a great system to work on if one has open-source applications and some money to invest in. It can help integrate the whole business into a single platform and increases overall efficiency and productivity. 
It has proven itself to be a powerful tool for businesses time and again. It has been a reliable and efficient platform for years. It is the right time to make the switch to Odoo ERP. Connect with CARET IT for the Odoo ERP solution now.
Hire us to help you with your business model. We are Odoo Certified & Preferred Partner Company for Odoo Enterprise Customization & ERP Customization.