Internet of Things (IoT)
The experiments and innovations are always welcomed by Odoo. It is upgrading day by day with the integration of new technologies and possibilities giving all the satisfaction to the Odoo users. But this time Odoo has stunned its users by integrating the IOT technology with it.
There is an IOT box developed or designed by Odoo to connect with the other gadgets and reach a wider audience with the ERP software. The integration of this box with the software will definitely increase its capability of connecting with the customers.
What is IoT?
The IoT (Int​ernet of Things) is all about connecting our daily used objects or gadgets with the internet. It is a technology that allows different devices to communicate or interact with each other over the internet. Basically, IoT is invented to make our lives easier than ever before.
It has numerous advantages and can help us in so many ways, like reducing human labor, automating repetitive tasks, etc. Talking about the businesses and their ERP systems, they get so much advantage from IoT with the right data connected to the right process.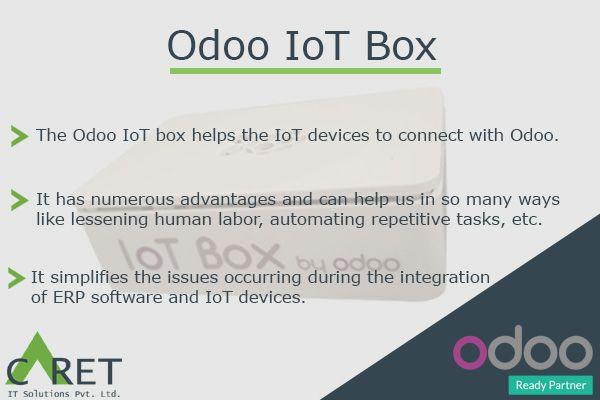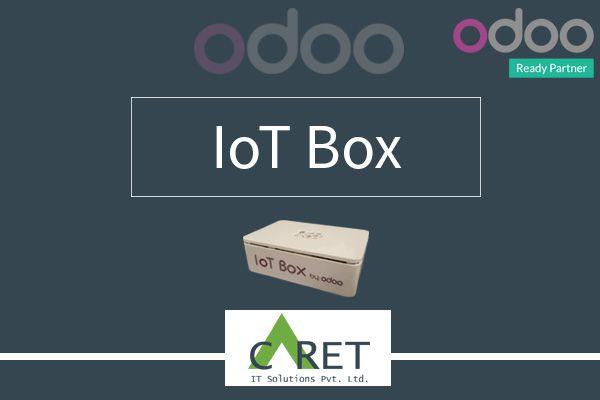 Odoo IoT Box
The Odoo IoT box helps the IoT devices to connect with Odoo. It simplifies the issues occurring during the integration of ERP software and IoT devices. It acts as a mediator between the two via Ethernet cable or Wifi. Once the detection of Odoo is done, the configuration can be changed through your own browser.
A number of devices can be connected through this method. The IoT box also supports multiple device connections and can connect with different devices at the same time. There are also drivers provided by Odoo to make your device compatible with the software. Hence, all types of machines and tools can also be connected to the ERP with the help of Odoo IoT.
Once the Odoo IoT gets connected with your system, it starts working hand in hand with other modules. This integration of Odoo IoT with your system offers multiple advantages to your business, like:
It reduces manual labor at repetitive work areas so that you can use them somewhere else. 

Increases the speed of manufacturing, as the speed of machines is twice then human hand. 

Brings perfection in products with similar output every time. 
Apart from this, Odoo IoT serves a lot of features to the users and gives them the surety of enhancing their business to the next level.
Odoo IoT with Caret IT
If you want to integrate Odoo IoT with your current system and explore the new venture by Odoo, Caret IT will help you in executing that. We will create and customize the Odoo IoT module for you to meet your business requirements. We will help you to connect each and every device of your use with IoT and make your life easier.  

You can integrate IoT to every device or object you use for doing business like sensors in the warehouse to keep a record of stock, generate notifications on objects for a reminder of renewal, and much more. The integration with Odoo IoT will definitely bring a positive change in your business.
Caret IT is one of the official Odoo Partners and will help you to integrate and customize Odoo IoT with your system.  Get in Touch with us to upgrade your business with the new inventions always. We are just a call away.