Odoo is an open-source ERP software that is an all-in-one management solution for all business verticals and industries. Simply defined, Odoo is a collection of all the features and tools we need to run our business efficiently.
The primary concept behind purchase management software is to reduce and simplify as many operations as possible while keeping prices low and worker errors low. It streamlines procurement offers, distributes RFQs, tracks purchase orders, manages suppliers, gathers data, receives items, and evaluates vendors.
Now, let's look at the Odoo Purchase Management Module in more detail.
When we enable or disable any option from Configuration ➤ Settings before saving, it will display unsaved changes.

Request for Quotation
Configure each product to send out Requests for Quotations to each of your suppliers. We can send the RFQ by email directly from the all in just one click.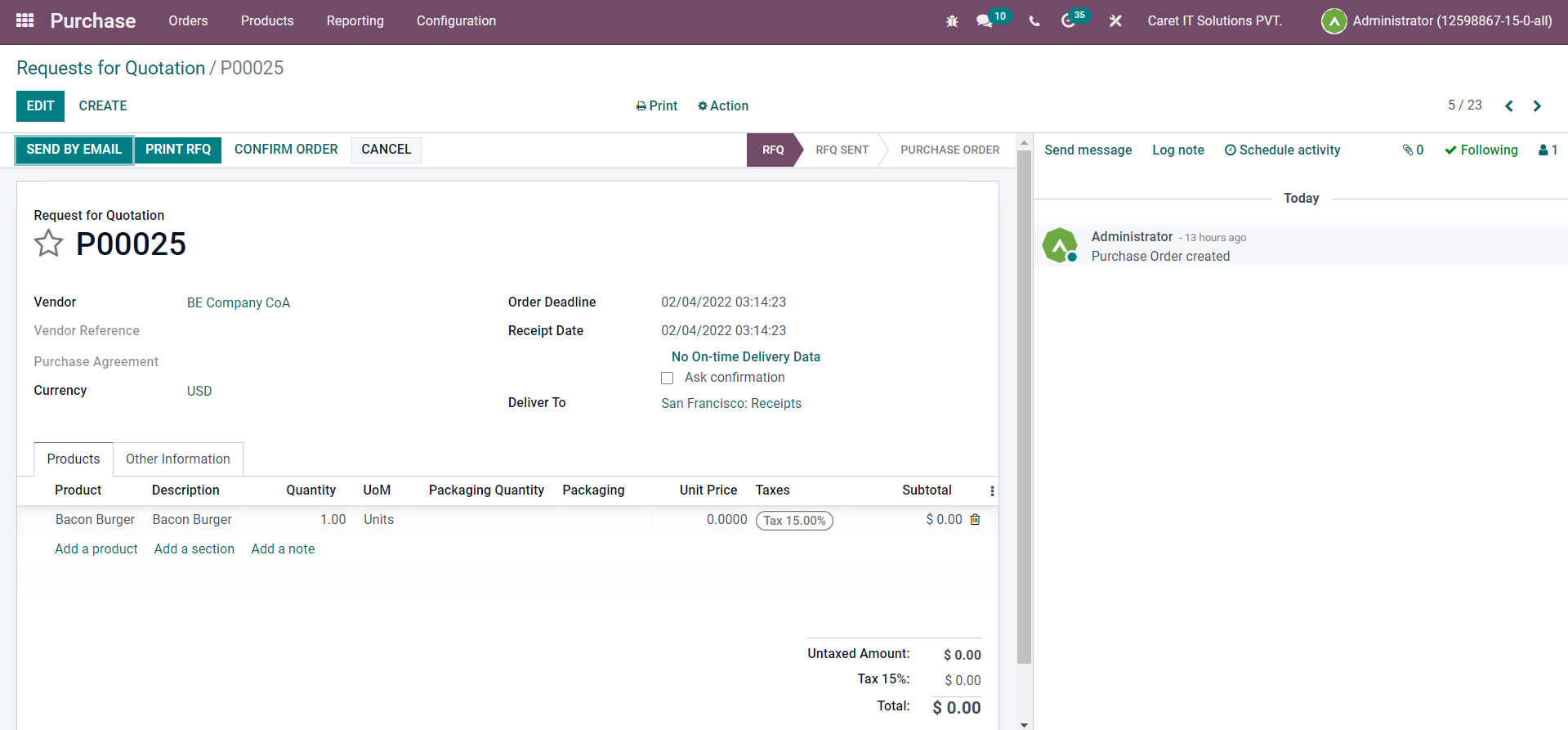 Purchase Order
After confirming the RFQ, it will become a purchase order. We can see the purchase order from Purchase ➤ Order ➤ Purchase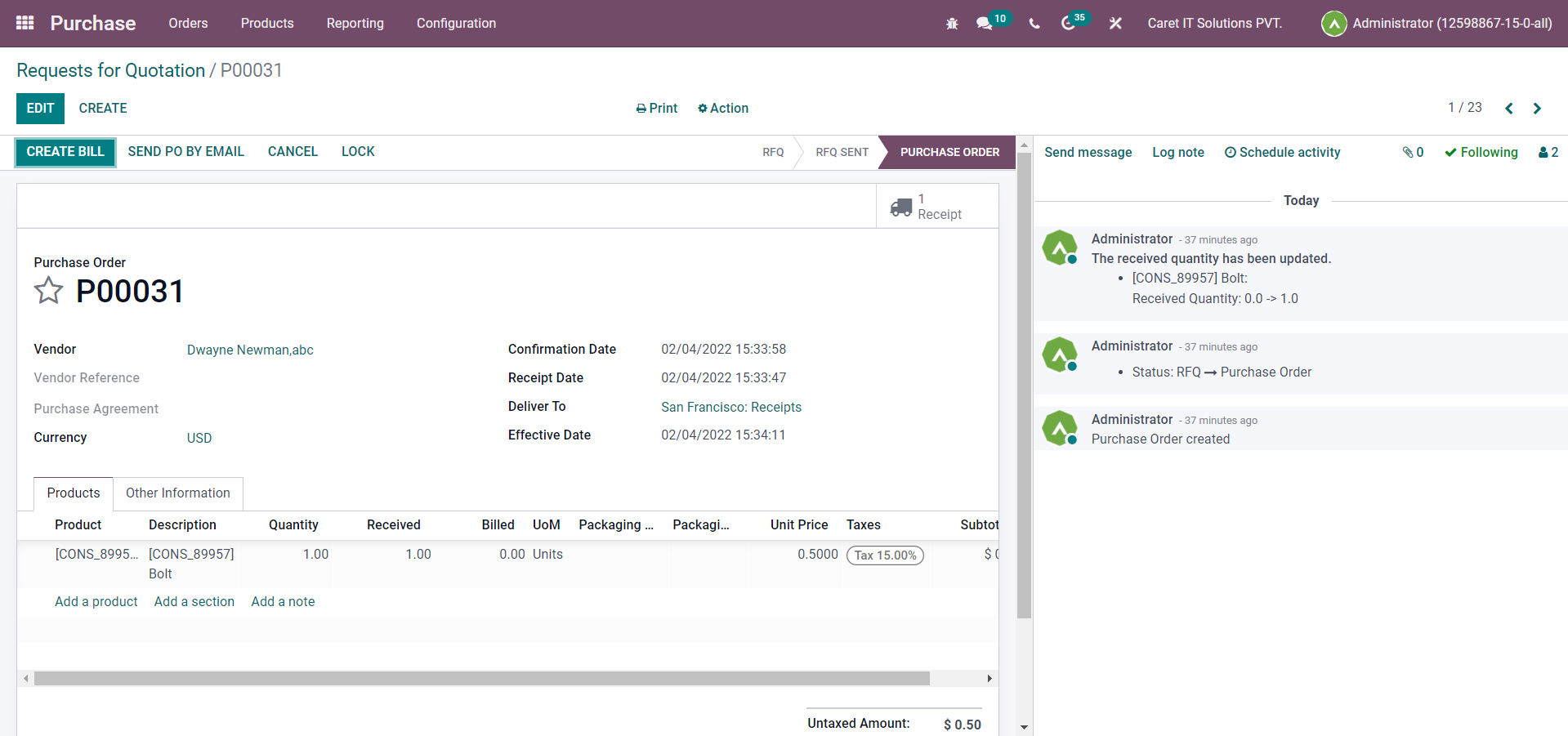 Incoming Products
We can also track our stock and determine the quantity and locations of each batch of items we receive.
Click on "Received Product" to receive the product from the vendor. We can see the receipt note. Write down the done qty and validate the receipt.

Vendor Bill
Design drafts vendor bills which we can easily modify or cancel later.
Click on "Create Bill" to create a vendor bill.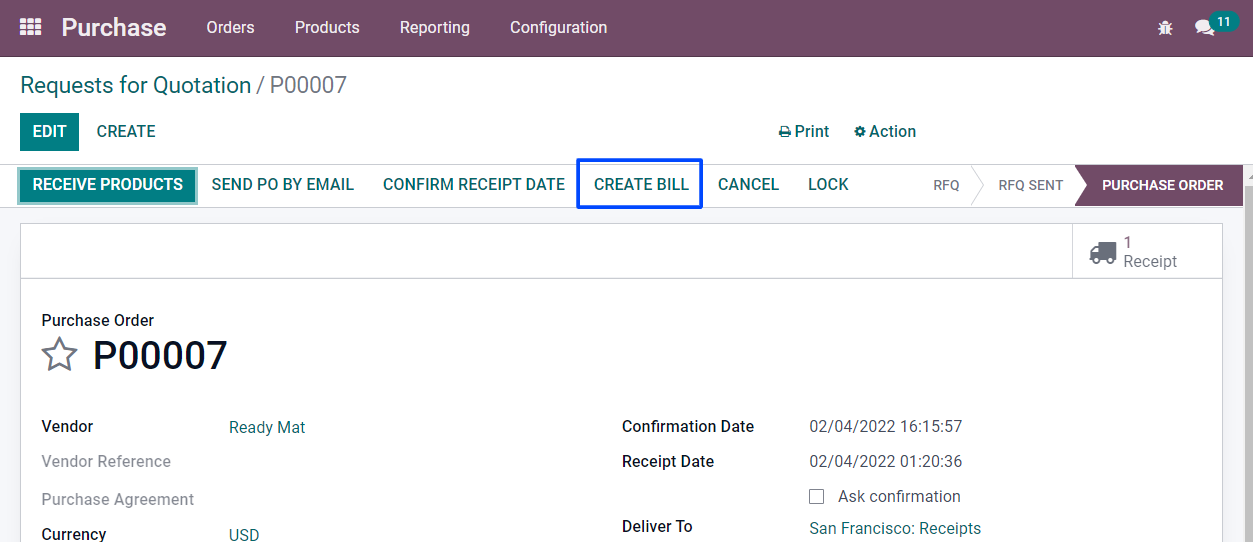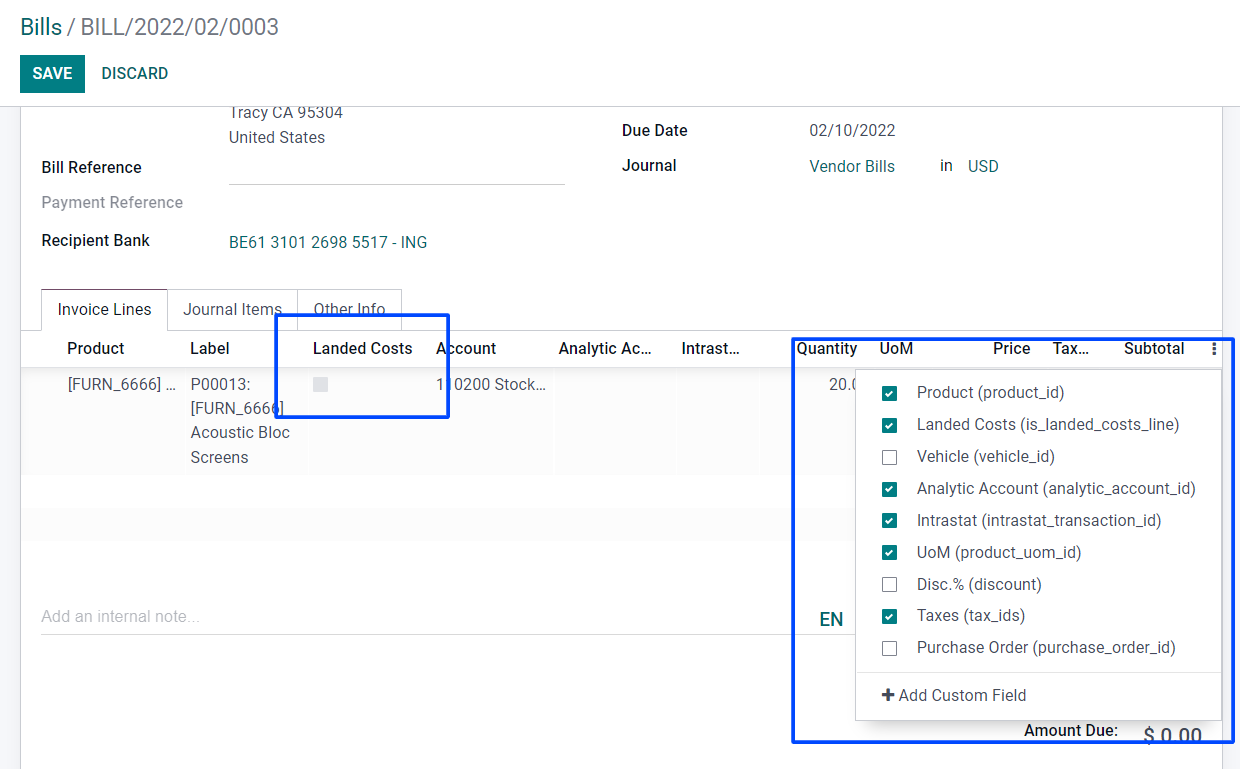 We can enable/disable fields, enable landed cost, and have journal items displayed in the vendor bill. This is a new feature added in the purchase management module.
Purchase Agreement in Odoo v15
A purchase agreement is a kind of legal document illustrating the diverse conditions and terms that are associated with the sale of products.
There are two Purchase Agreement types that are available and you can also create a new Purchase Agreement type.
Call For Tender

Blanket Order
Purchase ➤ Configuration ➤ Purchase Agreement Types

Agreement Selection Type:
There are two types of Agreement selection:    
               Select only one RFQ (exclusive)    
             Select multiple RFQ
If we select the first option select only one RFQ It automatically cancels all other bids while retaining one RFQ.

Lines :
Use lines of agreement: 
It is used to initiate the automatic addition of products to the RFQs while crafting an agreement.
Do not create RFQ lines automatically: 
It is used for the products that have to be added manually to the RFQs while creating an agreement.
Quantities :
Use quantities of agreement: 
Use to automatically add purchase order lines of quantities to the quotations.
Set quantities manually:
 Use to manually add the purchase order lines of quantities to the quotations.
Let's create a Purchase Agreement
Create more than one quotation you need and send the generated quotations by mail to the vendors.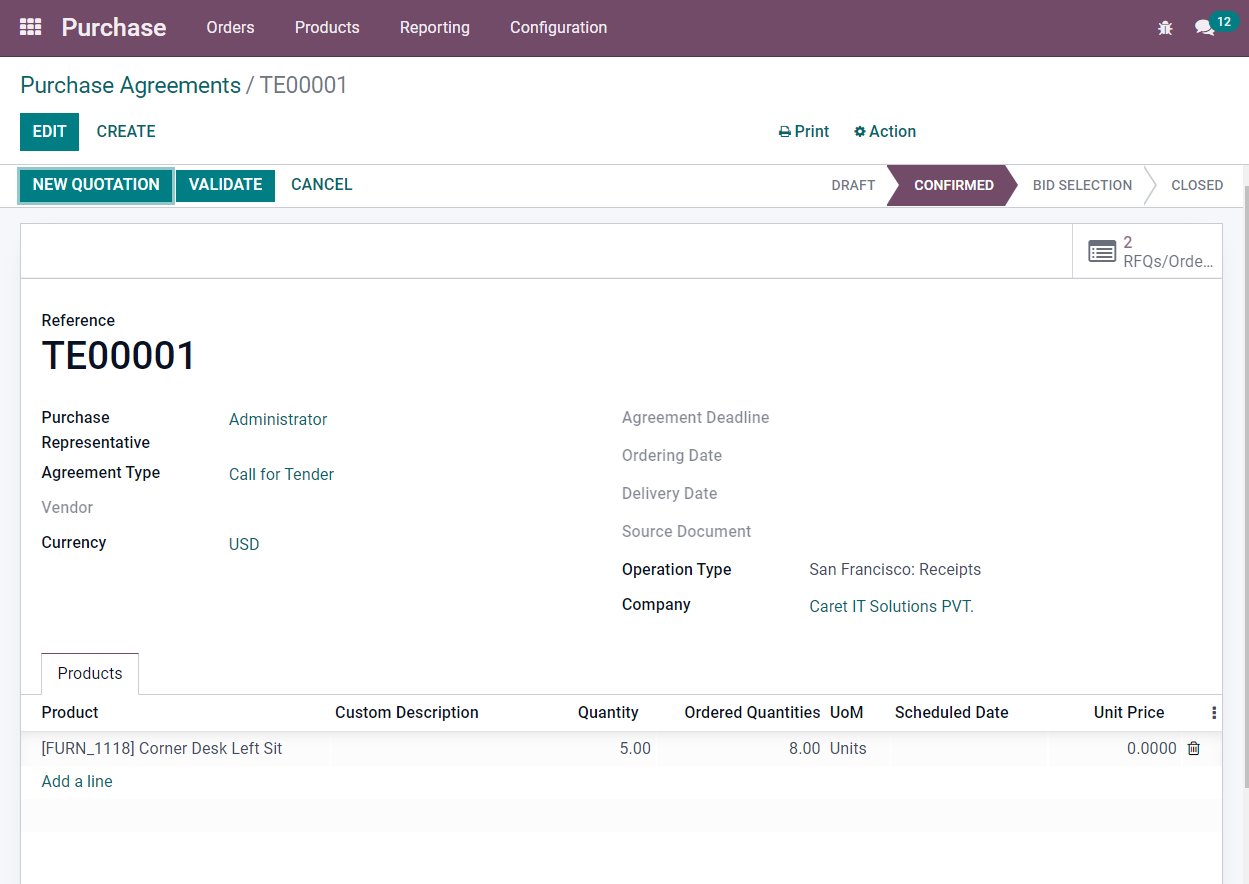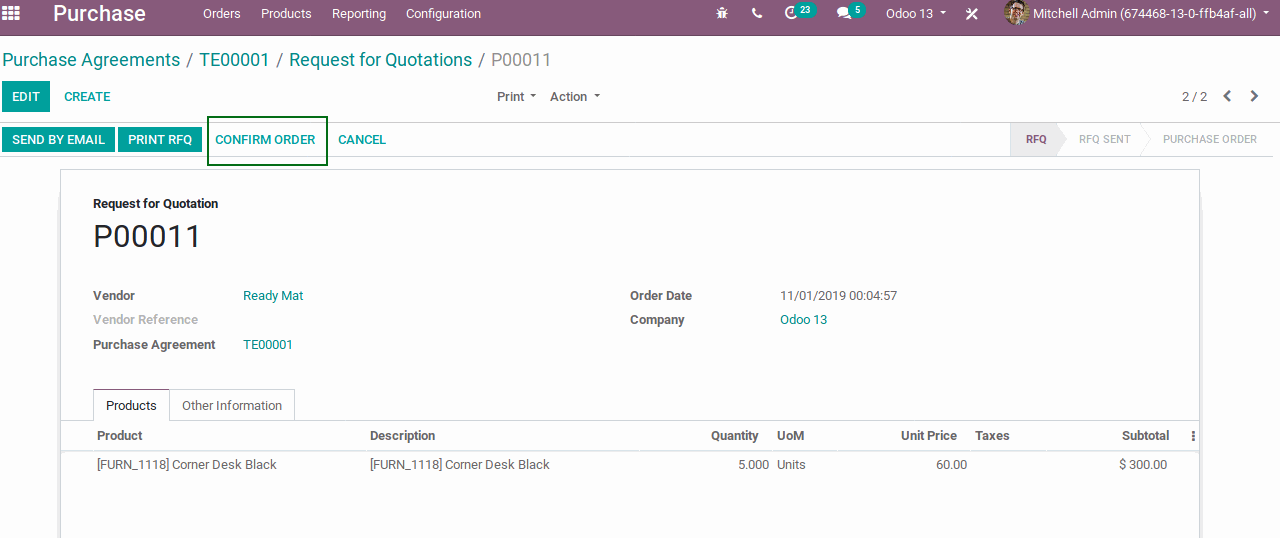 Blanket Order
A Blanket Order is a purchase order that a customer places with its supplier to allow multiple delivery dates over a period of time, often negotiated to take advantage of predetermined pricing.

Vendor selection is compulsory in the blanket order.


Create new quotations using blanket orders when it satisfies the purchase agreement. The option will auto-fill in the quotation while we select the options use lines of agreement, otherwise, we need to give manually.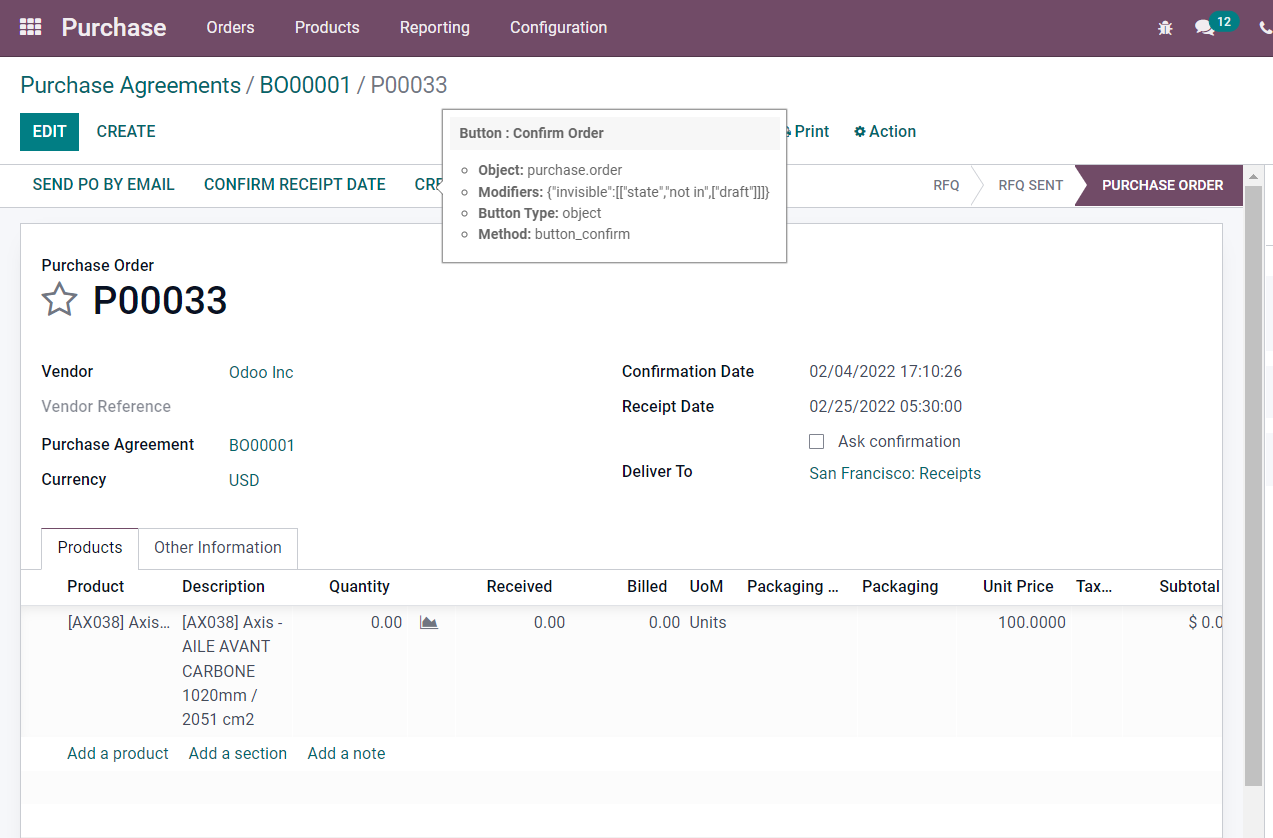 Purchase Section and Note
Create Section and Note in Purchase Order.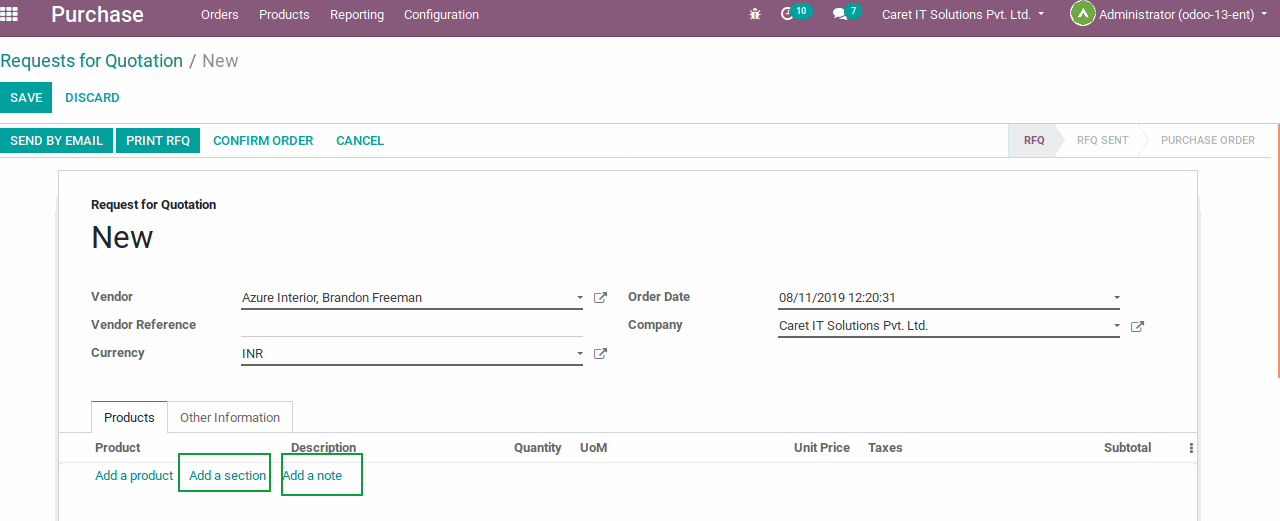 Report with Section and Notes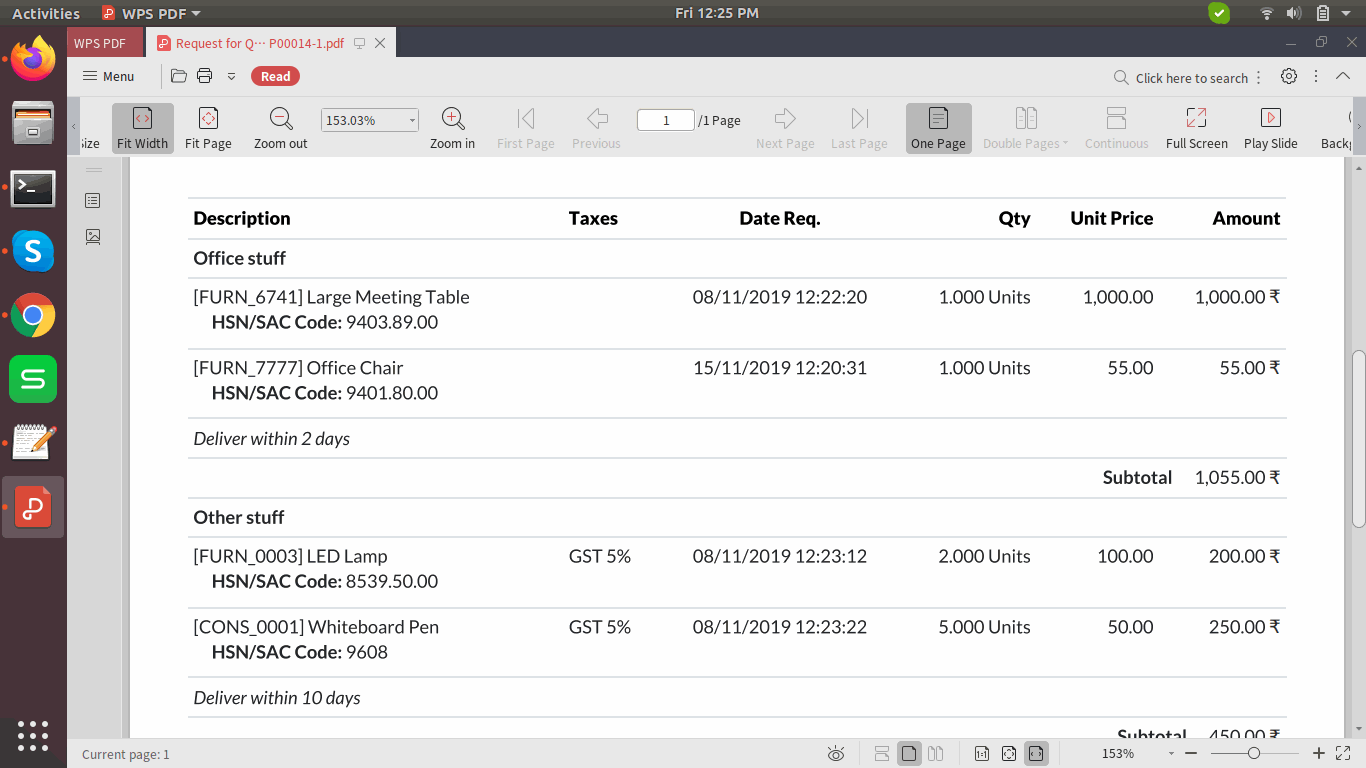 Purchase Analysis Report
Purchase ➤ Reporting ➤ Purchase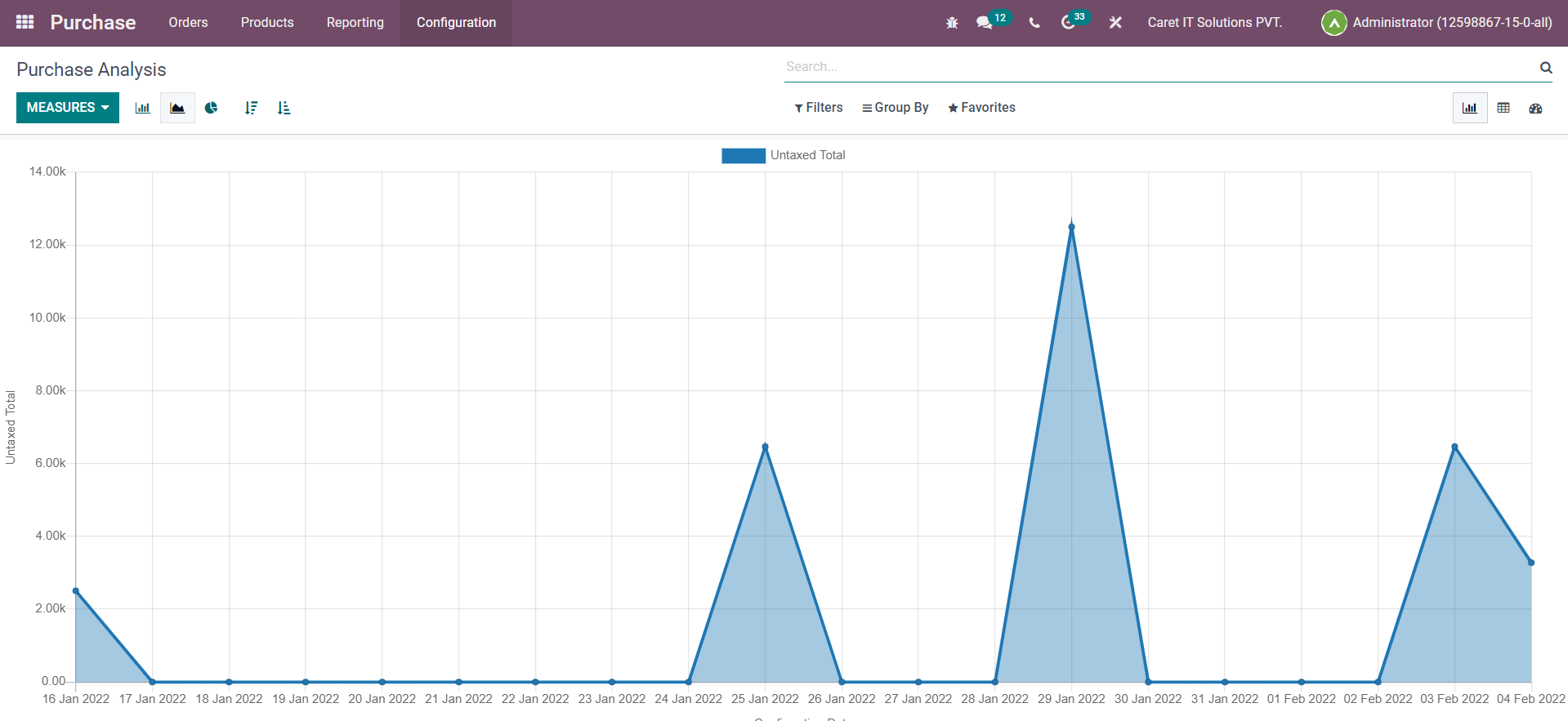 We can see the purchase analysis report in different views (Dashboard, Graph, Pivot) and different filters.