To achieve excellence and competitive advantage, an organization needs to use the right software solution. This is a very well-known fact. But the question is which partner to choose the solution with. If an organization is going with Odoo ERP, it can have major risks in the future as it is heavy software. This can be avoided altogether and worked out in its favor if the solution partner is efficient and supportive. It is highly important that an organization puts a lot of thought before choosing a partner. First of all, it needs to understand the needs of the business. It needs to identify the areas which desperately need automation. Secondly, it needs to establish the budget and size of the automation. These things help an organization realize what it needs and then it can go look for a suitable Odoo Partner. Caret IT is one of such Odoo partners.
Caret IT is a place filled with tech-savvy individuals who are passionate about technology. They have worked with several dozen industries and their team has the people and processes that one can rely on in a business technology partner. At Caret IT, their focus is on digitalization with cutting-edge end-to-end Cloud ERP – SaaS & Mobile App Integrations with Odoo-OpenERP for seamless data exchange. They believe in empowering enterprises towards digitization. It can happen using digital technology and smart solutions. They identify opportunities that can provide a digital advantage to an organization and then they suggest what solutions and services would suit an organization and how they can be useful.
Here are some of the reasons why Caret IT is the partner an organization needs:
Punctuality: More than anything, an organization wants a punctual partner. ERP leads to a huge transformation. If it doesn't follow a routine and finish in time, it is a waste of an organization's resources. Caret IT is known to provide leading support, and deliver unmatched services, and training on time.

Work Experience: Caret IT has been working as a solution partner for more than 8 years. It has since been providing high-level software solutions with well-qualified professionals with vertical domain knowledge. They have served the industries namely Agriculture, Professional Services, Health Care, hotels & restaurants, schools & universities, Manufacturing & Distribution, Architecture & Engineering, NGOs, etc. This experience alone makes it above any other partner.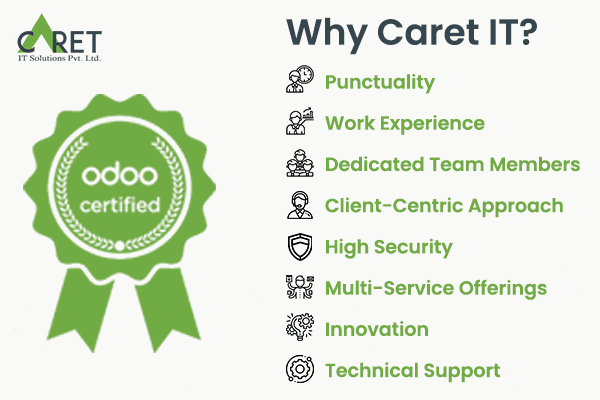 Dedicated Team members: It has a highly ambitious and energetic team. They all work together in synergy. They have the vision to develop the best problem-solving approach. And as they say, it's people who make the company. If they are alright, the company is alright.
Client-centric approach: It is important that a partner satisfies a client's needs rather than handing them whatever they want to sell. A client-centric approach makes Caret IT more desirable than any other partner. They help the clients bring the products to market faster while reducing their development costs.

High Security: When an organization gets on board with a partner, it is the highest priority to protect the sensitive data of the organization. One can not stress this enough. At Caret IT, they follow and enforce the best practices for the security of the clients' data in the transaction as well as internally.
Multiple Service Offering: Caret IT has a wide range of solutions and multiple service offerings. It is not just limited to Odoo ERP. So whatever need arises, Caret IT is prepared for it. It helps to have a trusted partner onboard so one doesn't need to go searching for a partner when they are in need of another solution.
Innovation: Caret IT doesn't just sell the software, implement it, and forget about the client. When an organization comes on board, they can be assured that the partner will help them innovate in their technology investment. Caret IT will help them grow the business on the current system and if it doesn't work for it anymore the next one.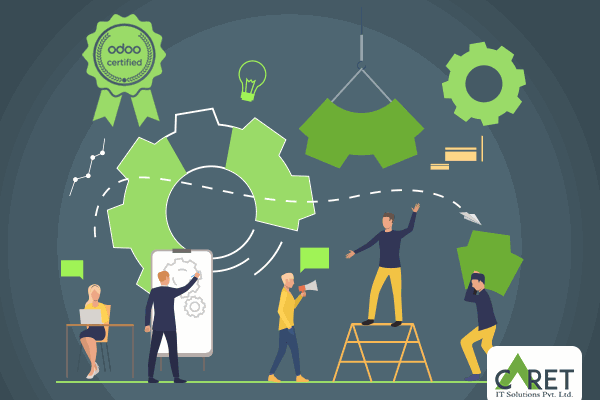 Technical Support: Caret IT values clients' time. They understand the importance of technical support after-sales. They provide email support, forum and online support, and a single point of contact from the company. Their response time is 72 hours excluding public holidays.
These are some of the many reasons why an organization should opt for Caret IT as its solution partner. Odoo ERP is a big change for the organization. It can not afford to spend its resources on an unreliable partner. Choose Caret IT at caretit.com and be assured to get premium services for your needs.

Caret It is an Odoo Silver partner and has a team of well-qualified and experienced professionals, schedule a meeting with us for your business consultation.