SMS Marketing as part of communication strategies can empower to expand markets, considering that in some countries emails are not very used or used at all. It also helps to boost the conversion rate, as this strategy has a high open-rate percentage among people who use smartphones.
With Odoo version 13 SMS Marketing, we can plan, organize, schedule, and keep track of our mailings with its easy-to-use interface.
SMS Marketing ➤ Create
Subject: Will help the user to remember what the mailing is about.
Recipients: Will choose to whom the user would like the SMS to be sent.
If the user chooses Contact, all  Odoo contacts will receive SMS. The user also can refine the recipient list with the add filter option.
Put in the queue: The mailing will be triggered with the next automatic run.
Send now: Sends the message immediately. Advised to use this option if there are not that many recipients.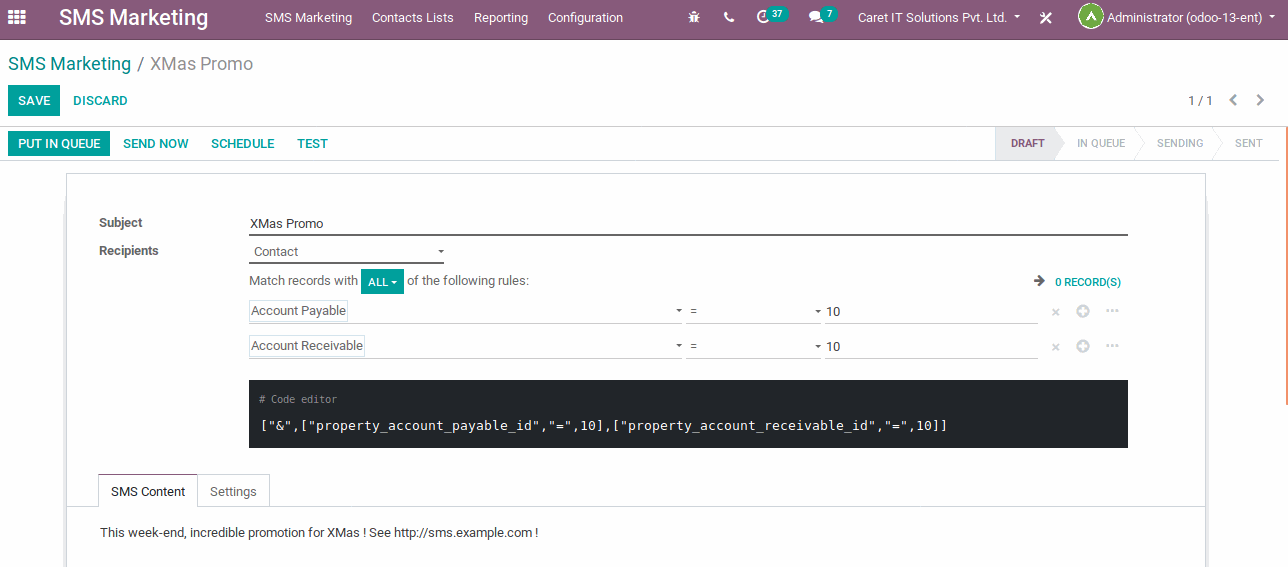 Schedule: allows you to choose a day and time. The best option for mailings that I would like to send during a specific event is to promote an offer while it is active or to simply plan a content strategy in advance.
Test: allows you to send an SMS to one or more numbers for testing purposes: Suppose, if the link provided lands on the right page while making sure they are responsive. 
If sending it to multiple numbers, then a comma between them is a must.
The mailing list option allows choosing mailing lists created with specific contacts or people who have subscribed to newsletters, or both. We can allow you to select more than one mailing list. 

SMS Content tab: links can be included, and Odoo will automatically generate link trackers. 
Settings tab: The option includes the opt-out link available. If activated, the contact will be able to unsubscribe from the mailing list if he is not interested in it anymore.

We can see the received, bounced, sent SMS and other details from these buttons.


We also can check the price to send an SMS on our country when clicking on the information icon when creating a new SMS. 
SMS Marketing ➤ Configuration ➤ Link Tracker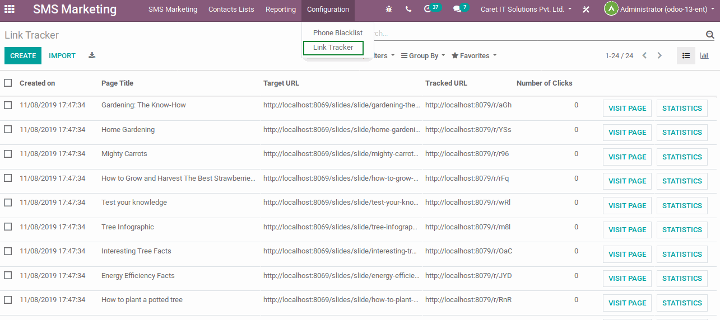 Link Tracker
In the Link Tracker menu under Configuration, I can see the history of my sent links, access them and look at the statistics.
Report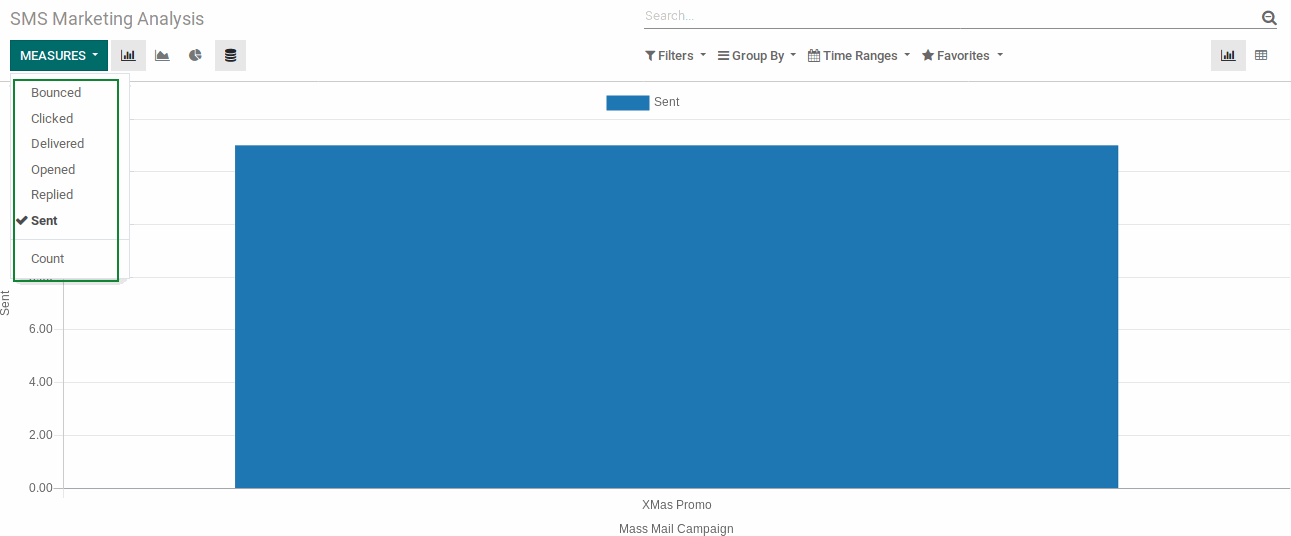 From the Reporting menu with just a few clicks, we can apply filters, measures and adopt different layouts to do an analysis of the performance of SMS mailings. 

Get more information about SMS Mailing with Odoo and Odoo Customisation from us. Caret IT is always ready to help you guys for all your issues related to Odoo. We serve our clients with Odoo implementation, Odoo integration, Odoo Customization and much more. We own a team of talented Odoo experts, who are available 24X7 to guide with all your Odoo and business management issues.