Business Intelligence in simpler terms is the collection and analysis of data pertaining to the organization and the consumers and using it as business information to improve the current business processes which in turn helps improve the efficiency of an organization. Business Intelligence can also be called as data-driven Decision Support System of an organization. Business Intelligence comes from reports, books, surveys, and other business information systems. An organization's performance and productivity can be effectively elevated if this information is used properly. But before that one needs to understand what needs to be improved and what the organization is failing to achieve.
Say for example the production needs to be optimized. The first thing to do is to collect all the information regarding the production process. After that, it can be analyzed with the current market cost and the impact it's having on a product's price. It is done very efficiently without wasting time when you have Business Intelligence. Automation of such tasks leads to having accurate reports which helps an organization make improvements.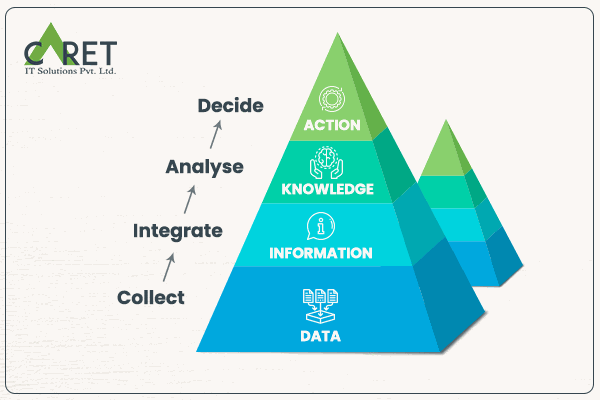 Let us see some of the benefits of Business Intelligence.
Anticipation of trends: An effective ERP keeps track of an organization's various processes and thus keeps it prepared for changes in market trends. It is possible because the data is collected and analyzed in real-time. For example, if the software sees a constant increase in sales it would recommend hiring new sales employees. So an organization needs to invest in that. It cross-references this data with the current market so the forecast stays precise.  
Realistic goal setting: Many a times it happens when the sector has done pretty good overall but an organization has had very little growth. This happens because of an unrealistic target set by the management. The software helps establish rational targets. Business Intelligence does this by considering the internal factors of an organization, not only market trends. It gives an authentic analysis of the current internal situation to the management so it can be prepared for the market challenges.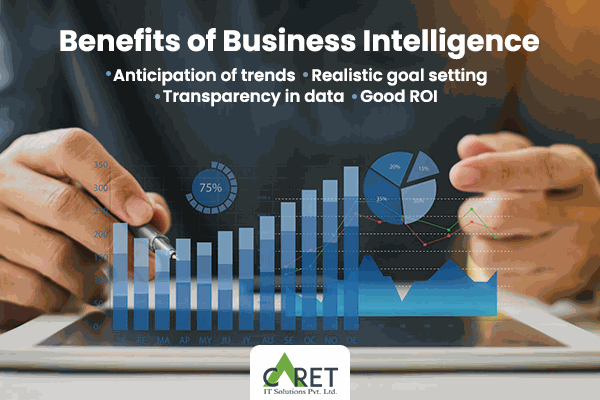 Transparency in data: It is vital for any organization to have reliable data. This data gives the organization integrity. And that integrity comes in handy when it wants investors. The software gives organizations automation. And it is because of that automation, that there is little to no risk of human error or fraud. It gives transparent and credible data which is more reliable and fruitful for an organization. Management can take complex and risky decisions when they know they can rely on the data. It also helps management convince the employees for the necessity of those risky decisions.
Good ROI: Business Intelligence helps get higher revenue by decreasing costs and improving margins. It guides to avoid unnecessary costs. It helps improve the overall productivity and efficiency of an organization. Business processes and employees get streamlined which helps get more customer satisfaction. It also assists in the reduction of operational costs because it has improved productivity and optimized business processes. It is safe to say that Business Intelligence gives a sizable return on investment.
An accurate collection and analysis of the data are very essential for an organization. It effectively helps measure where the company stands at the moment. Business Intelligence uses all the data at its disposal and helps an organization make informed decisions. It provides important information about the current and past performance of the organization.

It forecasts future trends and expected demands. It also helps understand customer behavior in the current marketplace. Business Intelligence provides all this information in real-time. It all helps make decisions which get the organization in the right direction.

Business Intelligence is a very useful tool for any organization. Caret IT provides Business Intelligence services in an efficient and cost-effective manner. Visit caretit.com to know more about Business Intelligence.